We started the DAVID Women in Tech + Radio (WiTR) initiative to bring more awareness to the diversity issue that exists in the Tech part of the Radio industry today. This initiative consists now of the Women in Tech + radio podcast, our participation in the European Women in Tech Conference, and the organization of Girls in Tech and Audio, as part of the global Girls' Day.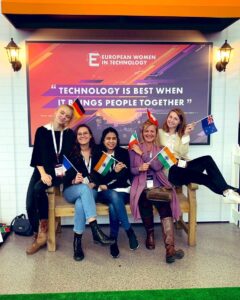 Camille Bondeville, our Guerilla Marketing Manager, created the Women in Tech + Radio Podcast with two objectives in mind. To help make DAVID a more attractive job destination to more women internally, and to start new conversations with different people outside of DAVID but within the radio ecosystem. To bring more awareness to these objectives, Camille started the podcast at DAVID Systems as she felt it was an effective and creative starting point.
Evidently, the podcast allows us to further our reach and share of our product capabilities, while also learning more about people through the creation of these in-depth industry interviews and our ability to give various women in the industry a platform to speak.
If you would like to take part in the conversation, reach out to us on LinkedIn, Twitter or Instagram!
You can find our Women in Tech + Radio podcast episodes on Apple Podcasts, Spotify, and Soundcloud.